Home » News » Get to know… Peter Barbalov, Design Partner at Farrells, Part 2
Get to know… Peter Barbalov, Design Partner at Farrells, Part 2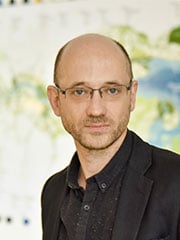 Now we know why Design Partner, Peter Barbalov, chose a career in the architecture industry, find out what he's like outside of work, as we caught up with him on what it's like to be him
What's it like being you?
I am passionate about what I do and will always strive to make something work – even if I'm told no in the first instance. That said, I am a good listener, which I would say is one of my better qualities seeing as I am a mentor for many of the fresh faces that comes through the doors of Farrells' offices.
What trait do you most dislike in yourself? And in other people?
In myself, I most dislike my impatience and in others, it's being dishonest.
Do you have a life philosophy?
'Forever – is composed of Nows' – Emily Dickinson
Name three things that you like
I love stories and while I am an avid reader, it's not just about the stories told in books that I enjoy, it's also the stories told by architecture or pieces of art. I also have wonderful memories of growing up in the mountains, they're both beautiful and restorative. And at the complete other end of the spectrum, I also love to explore new cities, something I very much look forward to doing again when life returns to normal.
What's a secret skill we don't know you have?
I love to cook. It gives me the opportunity to be creative at home and provides an essential distraction from the demands of everyday life. There's nothing quite like trying a new recipe and creating something new from scratch.
What's your most prized possession?
Funnily enough something I hold very dear is an old mechanical pencil that I keep on my desk. I've had it since I first started university, making it over 28 years old, and it serves as a daily reminder of the reason I decided to get into architecture, journey since and the lessons learned along the way.
Early bird or night owl?
I'm a night owl for sure. For me time goes slower at night and I have more breathing space to think things through. You can achieve much more in these hours than you can during the day.
What's your favourite food?
Banitza. It's a Bulgarian delicacy made of cheese, pastry and butter.
What would your superpower be?
My superpower would allow me to move at the same speed as my brain. My brain goes at 100 miles per hour, so if my body could keep up with everything my brain was thinking and wanted to do, I think that would be the best superpower of all.