Home » News » Max Farrell, Guest Editor – London Architecture Diary
Max Farrell, Guest Editor – London Architecture Diary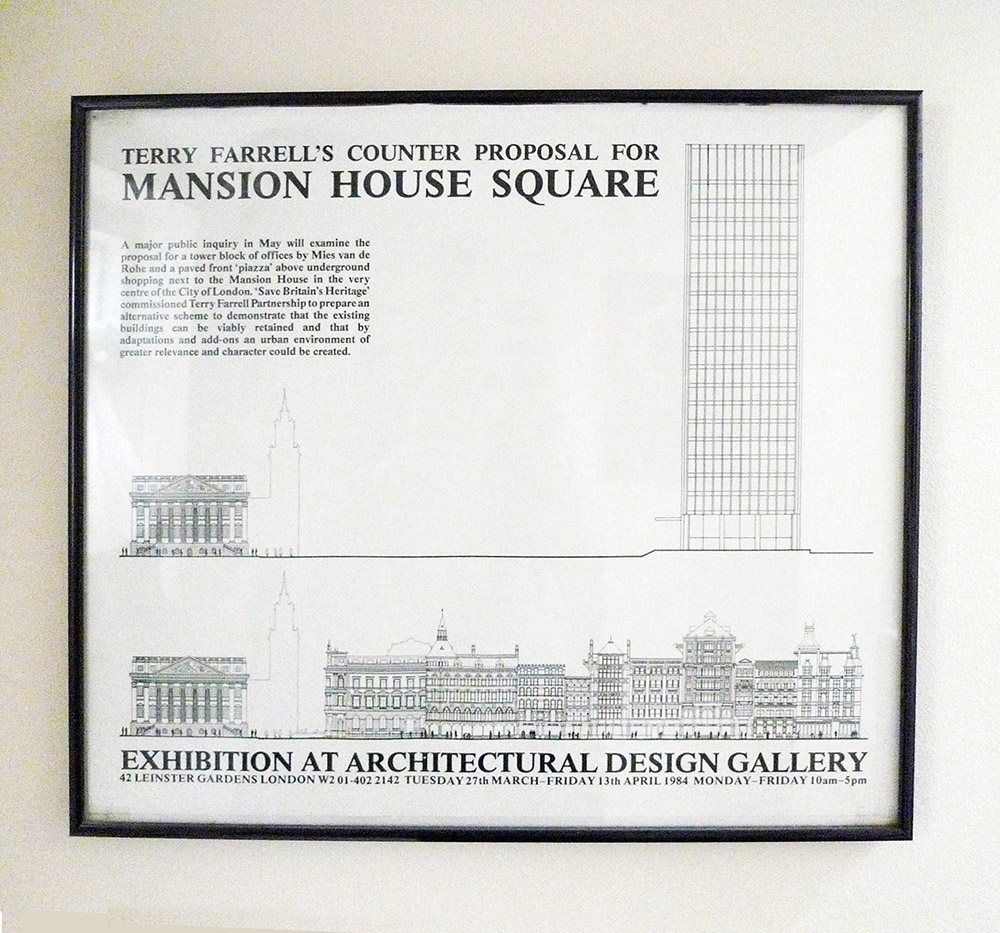 With so much of architectural interest in this busy city, the big draw for me in March is the Futures Found exhibition at The Royal Academy of Arts, looking at 'the real and imagined cityscapes of post-war Britain'.  Always interesting from an architectural and planning perspective to investigate the difference between initial vision and the built reality!
The New London Neighbourhood tour of the City on the 11th March looks set to be a great event, looking at the ever-changing nature of this dynamic urban setting.  From the 8th March, the RIBA also turn their attention to the Square Mile with an exhibition comparing the design methods of Mies van der Rohe and James Stirling.  Again, always interesting to look at envisioned vs. realised schemes. At Farrells we had our own scheme commissioned by SAVE to provide a more contextual alternative to the Mies scheme for Mansion House. We found the poster above in the archives which shows the two very different approaches of modern vs postmodern planning, a debate which is much less polarised today (and in many ways postmodern planning is the norm now).
Over at the Barbican, there are, as ever, many points of interest on the March agenda.  Thursday 23rd March marks the start of exhibition 'The Japanese House: Architecture and Life after 1945' whilst lectures by the Swiss architect Peter Märkli and Ryue Nishizawa, the youngest architect to win the prestigious Pritzker Prize, look set to be great events on the 10th March and 26th March respectively.
It's definitely time to visit the Victoria Miro Gallery to see 'Passage/s' by Do Ho Suh. He creates 1:1 scale translucent fabric structures of the architecture of the places in which he has lived and worked around the world – fascinating work!  Open until the 18th March, there can be queues at busier times but it is definitely worth the wait!
On the 14th March, LSE Cities is hosting Vienna: An Open City in Divisive Times which looks set to be an interesting debate into how an Urban Development plan can maintain the cosmopolitan nature of a city and its attractiveness to a diverse set of people, companies and investors – all pertinent questions for London in the post-Brexit referendum climate.
9 March 2017
Farrell's Mansion House proposal set out to define, clarify, and then enhance the very specific urban features of this unique city site ... The scheme, as an act of persuasion, was presented as an exercise in 'compare and contrast'.
– Collage and Context (2013), p. 89