Home » News » Sir Terry delivers Gold Medal Lecture in Hong Kong
Sir Terry delivers Gold Medal Lecture in Hong Kong
Sir Terry Farrell delivered a talk yesterday evening (26 October 2017) at the Asia Society Hong Kong Centre to commemorate his receipt of the Royal Town Planning Institute's Gold Medal. This was the second of two lectures held to mark the occasion. The first was held at London's Royal Institution on 16 October 2017.
The RTPI Gold Medal is considered the highest accolade in urban planning. Only 15 individuals have received the Gold Medal since it was first awarded in 1953. Sir Terry received the award in light of his "outstanding contribution" to urban planning and design. Stephen Wilkinson, president of the RTPI, said of Sir Terry in July: "He is one of the few top practitioners who has truly embraced architecture, urban design and planning in a holistic vision and so vitally helped to advance integrated thinking among these disciplines."
Speaking to a crowd of approximately 250, Sir Terry reflected on his long career and spoke about the future of city-making as a creative and collaborative endeavour, with reference to more than a half-century of work in London, Hong Kong, and elsewhere. He highlighted the role that architects and planners can play in advocating civic improvement through inventive design, showing many Farrells proposals that have been implemented in London.
The evening concluded with a reception on the rooftop garden that overlooks the British Consulate-General complex, which turned 20 years old this year. Thanks to all those who joined us.
27 October 2017
My work these last 50 or so years has been heavily involved in creating a kinder, less doctrinaire world than that of the previous era of high modernism. It has been about layering, learning from the past and regenerating with communities' involvement from the bottom up.
Sir Terry Farrell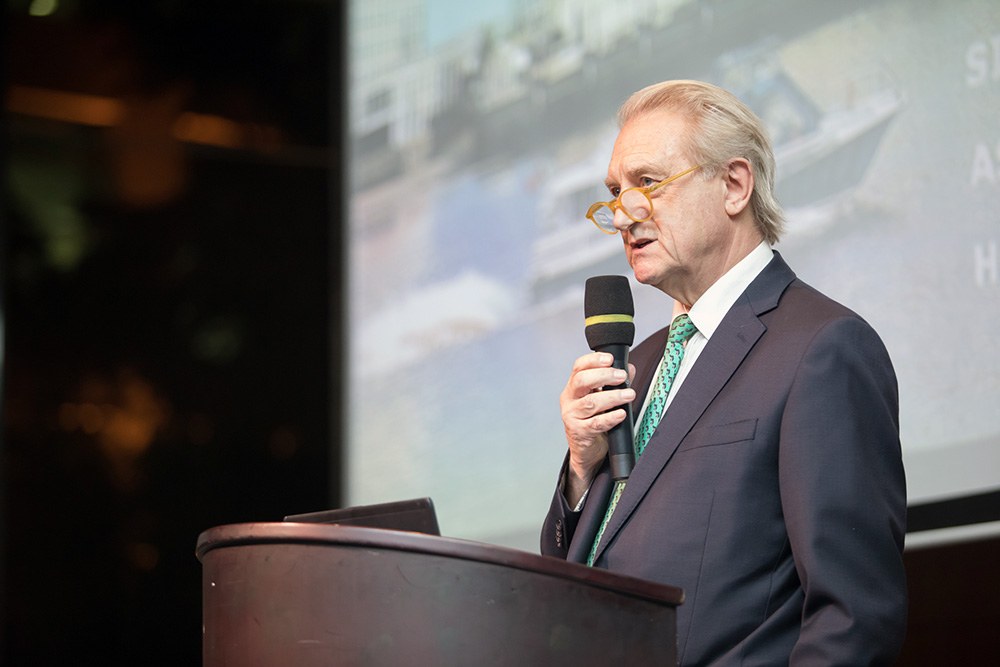 Dr. Peter Cookson Smith, founder of Urbis Limited and a past president of both the Hong Kong Institute of Planners and Hong Kong Institute of Urban Design, provided opening remarks.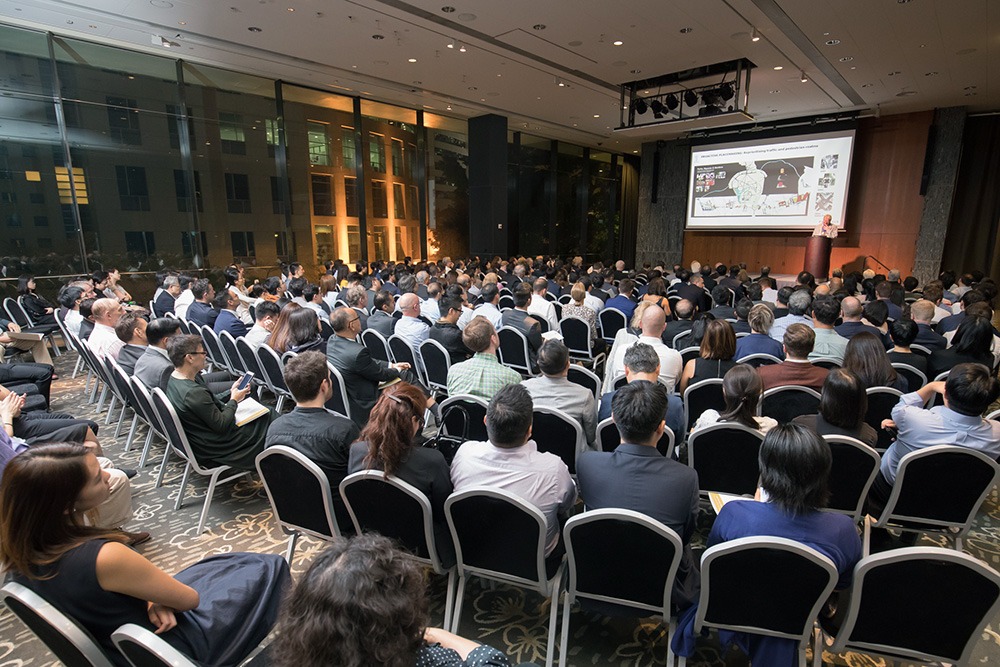 The talk was held in the Hong Kong Jockey Club Hall at the spectacular Asia Society Hong Kong Centre in Admiralty. The hall overlooks the Farrells-designed British Consulate-General and British Council complex, which was completed in 1997.
The evening concluded with a reception on the Asia Society's rooftop terrace.